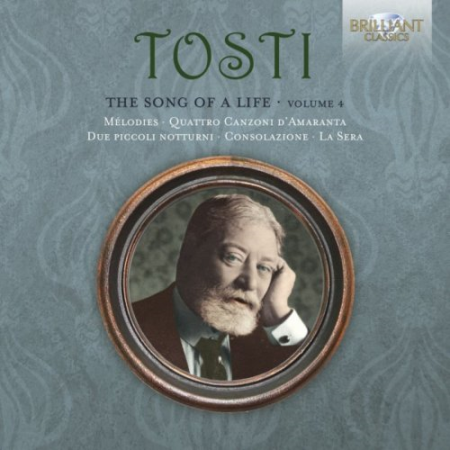 Artist
: Various Artists
Title
: Tosti: The Song of a Life, Vol. 4
Year Of Release
: 2020
Label
: Brilliant Classics
Genre
: Classical
Quality
: FLAC (tracks+booklet)
Total
: 297:11 min
Total Size
: 1 GB
​
Tracklist:
001. Parla!
002. Seconda mattinata
003. Deux petites melodies: I. Si je ne t'aimais pas
004. Deux petites melodies: II. Mon amour était mort
005. Io son l'amore canzone notturna
006. Pour un baiser petite
007. Au temps du grand roi!
008. Nella notte d'april!
009. I am not Fair
010. Sola tu manchi!
011. Amate!
012. Non domando più nulla!
013. L'ultima
014. Love's Way
015. On dit!
016. Io ti sento!
017. Toujours l'aimer
018. Voi doe signora
019. Love Me!
020. Summer
021. A vucchella
022. Quattro canzoni d'amaranta: I. Lasciami! Lascia ch'io respire
023. Quattro canzoni d'amaranta: II. L'alba separa dalla luce l'ombra
024. Quattro canzoni d'amaranta: III. In van preghi
025. Quattro canzoni d'amaranta: IV. Che dici parola del saggio:
026. Canta la serenata!
027. Starlight
028. Su la soglia
029. Tristezza
030. Se tu non torni!
031. Chitarrata abruzzese
032. Forse!
033. Napoli dorme! Napoli canta!
034. Once More!
035. Deux melodies: I. Je pleure
036. Deux melodies: II. Le mal d'aimer
037. Il pescatore canta
038. Love's Gift
039. Sogni d'oro!
040. Who:
041. Le temps d'un éve
042. Two Little Songs: I. Could I But Tell!
043. Two Little Songs: II. I cannot Tell
044. Never!
045. Non mentire!
046. Baciami!
047. Canto abruzzese
048. Cercando te!
049. Luna d'estate!
050. Now!
051. Se tu canti.
052. Itala stella
053. The Allies March to the Freedom
054. Due piccoli notturni: I. Van gli effluvi delle rose
055. Due piccoli notturni: II. O falce di luna calante
056. Morale allegra!
057. L'attesa!
058. First Waltz
059. Jewels in the Hedge
060. Passing Shadow
061. Adieu, my Dear
062. Back to the Old Love
063. More and More
064. Le papillon et la fleur
065. Remembered Still
066. Tutto se scorda!
067. While We are Young
068. Bimbi e neve Piccolo
069. Chi sono:
070. O dolce meraviglia!
071. Perdutamente!
072. Resta nel sogno!
073. Charitas!
074. Maggio è ritornato!
075. Because
076. Bonsoir, mignonne
077. Io vorrei che nessun mago indiscreto
078. Song of the Letter
079. Napoli
080. Ninna nanna
081. A Tale of the Twilight
082. Help me to Pray
083. Tormento
084. Non basta più
085. Anima mia
086. Parole del ricordo mio!.
087. Consolazione: I. Non pianger più
088. Consolazione: II. Ancora qualche rosa è ne' rosai
089. Consolazione: III. Tanto accadrà
090. Consolazione: IV. Perché ti neghi con lo sguardo stanco:
091. Consolazione: V. Sogna, sogna mia cara anima
092. Consolazione: VI. Settembre
093. Consolazione: VII. Quanto ha doo il Cembalo!
094. Consolazione: VIII. Mentre che fra le tende scolorite
095. M'odi tu:
096. La sera: I. Introduzione
097. La sera: II. Rimanete, vi prego, rimanete qui
098. La sera: III. Ci ferirebbe, forse, come un dardo la luce
099. La sera: IV. Ma chi vide più larghi e più profondi occhi
100. La sera: V. E quale cosa eguaglia nella vita del mio spirit
101. La sera: VI. Piangi, tu che hai nei grandi occhi la mia anima
102. A Song of a Life
The fourth volume in an acclaimed series, presenting the work of a gifted Victorian-era songsmith in unprecedented depth.
Based on 33 years of scholarship and promotion by the Istituto Nazionale Tostiano and a life of studies on the part of this volume lives up to its predecessors in brig to wider attention the work of a born melodist, at home in the English and French tongues as well as his native Italian, and one who brought the genre of salon song to a peak of perfection.
The greatest singers of each era from Caruso to Pavarotti and Bartoli have always reserved a corner of their repertoire for Tosti, but he has hardly ever been given the spotlight, perhaps nervous of the sheer popular appeal of songs such as 'A vucchella' which opens CD2 of the present set. The chronological approach to his work taken by this project proves that he was certainly not confined within the limited universe of love requited, rejected, desired, misunderstood, suffered or unspoken. The songs in this fourth volume cover the years 1905 to his death in 1916 having become a British subject in 1906, knighted in 1908, and retired to Italy in 1912.
Despite their relative youth, the singers chosen to record this project are all Tosti experts, having won various editions of Ortona's international voice competition devoted to the interpretation of drawing-room songs and ballads. Other actors of lesser skill almost always seem to be portraying the same person. Much the same thing can happen with music, but not here, thanks to the idiomatic command and fresh, unselfconscious artistry of the singers in responding to the wide range of poets set by Tosti, including Gabriele d'Annunzio, Thomas Carlyle and Frederic Weatherly.
The booklet includes a full contextual introduction to the Tosti edition by the late Francesco Sanvitale, and sung texts are available at brilliantclassics.com.
This is the 4th and last instalment of a huge enterprise, a world prre: the recording of the complete songs by Tosti!
Paolo Tosti (1846-1916) worked in poverty as a music teacher till he met the influential composer Giovanni Sgambati, who became his mentor. He introduced Tosti to Princess Margherita of Savoy, who became later Queen of Italy. She was impressed by him and appointed him as royal music teacher. In 1875 Tosti went to London where his fame spread, and he was made Sig Master of the Royal family.
He is known for his vast quantity of light, expressive songs, characterised by natural, singable melodies of a chag and sweet sennt. They became immensely popular and Tosti made a fortune with them.
This new project is produced by the Tosti Institute in Italy, presenting an impressive line of excellent Italian singers: Maria Bagàla, John Viscardi, Glen Morton, Donata D'Annunzio Lombardi, Giuseppina Piunti, Riccardo Della Sciucca, Cinzia Forte, Giovanni Meoni, Monica Bacelli, and pianists Isabella Crisante and Marco Scolastra.
:
Various Artists - Tosti: The Song of a Life, Vol. 4 (2020) FLAC - 1.0 GB
DOWNLOAD
nitroflare
Código:
http://nitroflare.com/view/9E7B545DFB3D3BE/VHghWqxW_VariousArti.part1.rar
http://nitroflare.com/view/5CA637CAA726070/VHghWqxW_VariousArti.part2.rar