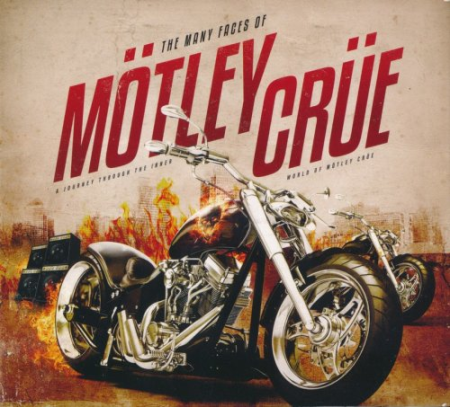 FLAC (Img+Cue,Log,scans) / MP3 CBR320 | 3h 1 min | Genre: Hard Rock, Glam Rock | 1.5 GB / 573 MB
​
Being "The World's Most Notorious Rock Band" (according to the band itself) is not easy. One of the most notorious and successful bands of the glam metal era, Los Angeles rockers Mötley Crüe burned through the '80s in a blaze of drugs, debauchery, and platinum hits. Their glammed-out image, hard-partying reputation, and a knack for melding pop hooks to heavy metal theatrics took the band to the top of the charts repeatedly throughout the '80s. Albums like 1985's Theatre of Pain and 1989's Dr. Feelgood bringing them to sold-out arenas around the world.
In The Many Faces of Mötley Crüe, we will explore the band's inner world, including collaborations, side projects, their hits-filled catalog and the rest of the "hair-metal" generation where they raised from. With stellar artwork and remastered sound, The Many Faces of Mötley Crüe if the most recent addition to Many Faces collection and for sure will be an essential part of your rock music library. Also, remember that it will not be available on streaming platforms.
Track List CD1:
01. Pop Evil Feat. Mick Mars - Boss's Daughter (3:25)
02. Brides Of Destruction Feat. Nikki Sixx - Deadman's Ruin (3:01)
03. John Corabi, Alex Grossi & Fred Coury - Home Sweet Home (4:13)
04. James Durbin Feat. Mick Mars - Outcast (3:37)
05. Vince Neil, George Lynch, Stu Hamm & Gregg Bissonnette - Paranoid (3:35)
06. Randy Castillo, Tracii Guns (From Brides Of Destruction), Gilby Clarke & Jizzy Pearl - Sweet Child O'Mine (4:53)
07. Carmine Appice Feat. Mick Mars - Under The Moon & Sun (4:52)
08. Brides Of Destruction Feat. Nikki Sixx - Lords Of The Mind (4:22)
09. Tracii Guns (From Brides Of Destruction) & Rev Jones Band - Bullet To Bite On (5:35)
10. Video Nu-R Feat. Mick Mars - Gypsy Woman (4:18)
11. John Corabi, Randy Castillo & Tracii Guns (From Brides Of Destruction) - I Used To Love Her (3:26)
12. Tracii Guns (L.A. Guns, Guns N'Roses), Paul Shortino (Quiet Riot), Randy Castillo (Motley Crue), Eric Turner (Warrant) & Jerry Dixon (Warrant) - On Through The Night (3:38)
Track List CD2:
01. Jason McMaster - Kickstart My Heart (4:45)
02. Frankie Banali - Dr. Feelgood (4:55)
03. Mystic-Force - Shout at the Devil (3:12)
04. Derrick Lefevre - Piece of Your Action (4:45)
05. Eden Burning - Starry Eyes (4:36)
06. Sister Whiskey - Home Sweet Home (3:50)
07. Wicked Sins - Girls, Girls, Girls (4:35)
08. Blues Saraceno - Power to the Music (4:45)
09. Richard Kendrick - Public Enemy #1 (4:20)
10. Leaving Eden - Live Wire (3:29)
11. Takara - Saints of Los Angeles (3:57)
12. Monkey Soop - On with the Show (4:44)
13. Fierce Atmospheres - Take Me to the Top (3:43)
14. Charlie Bonnett III - Dancing on Glass (4:08)
15. Loaded Dice - Knock 'em Dead Kid (3:46)
Track List CD3:
01. Gilby Clarke (Guns N'Roses) - Wild Flower (3:35)
02. Chris Slade (AC/DC), Scarlet Polmers, Ira Black (Dokken) & Matt Thorne - It's A Long Way To The Top (If You Wanna Rock & Roll) (4:56)
03. Bruce Kulick (Kiss) - Always With Me, Always With You (5:08)
04. Mark Slaughter (Slaughter/Vinnie Vincent Invasion), Brad Gillis (Night Ranger/Ozzy Osbourne)/Eric Singer (Kiss), Gary Moon & Paul Taylor (Winger/Cinderella/Ali - Over The Mountain (4:37)
05. Eric Singer (Kiss), Micky Moody (Whitesnake), Bernie Marsden (Whitesnake), Chuck Wright (Quiet Riot) & Chris Catena - Sweet Talker (5:49)
06. Jake E. Lee (Ozzy Osbourne/Dio) - Surfing With The Alien (4:12)
07. Chris Catena, Glenn Hughes (Deep Purple), Tony Franklin (Whitesnake/Quiet Riot), Bruce Kulick (Kiss) - Freak Out Tonight (5:36)
08. Jimmy Crespo (Aerosmith) & Richard Kendrick - Panama (3:21)
09. Keri Kelli (Skid Row/Ratt/Vince Neil Band/Warrant), Tattoo Frank & Richard Kendrick - Crazy Train (5:14)
10. Chris Catena, Eric Singer (Black Sabbath/Kiss), Chuck Wright (Quiet Riot) & Bruce Kulick (Kiss) - The Stronger You Are, The Harder You Fall (4:02)
11. Jizzy Pearl (L.A. Guns/Ratt) - Fire Woman (5:05)
12. Marko Pukkila (Quiet Riot), Johnny Dee (Britny Fox), Lee Thompson & Richard Kendrick - Pour Some Sugar On Me (4:53)
DOWNLOAD
nitroflare
Código:
http://nitroflare.com/view/0E40F4DFBD28899/h5XWWjAp_Manyfacescr.rar
http://nitroflare.com/view/1A773F050D8D743/h5XWWjAp_Manyfacesmc.part1.rar
http://nitroflare.com/view/1969D5E4F1FD9C8/h5XWWjAp_Manyfacesmc.part2.rar