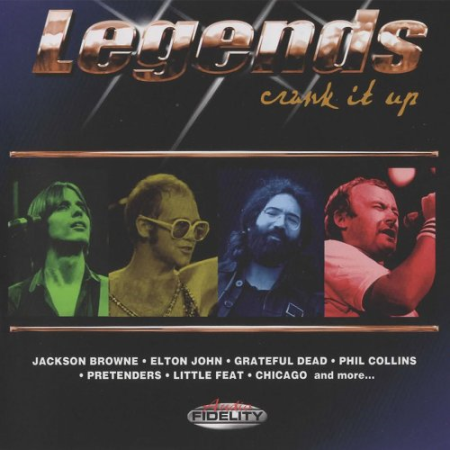 Artist
: Various Artists
Title
: Legends: Crank It Up
Year Of Release
: 2014
Label
: Audio Fidelity - AFZ 178
Genre
: Rock
Quality
: DSD64 image (*.iso) 2.0 / FLAC (image + .cue, log, scans)
Total
: 1:10:55
Total Size
: 2.88 GB / 519 MB
​
Tracklist:
01. Chicago - Does Anybody Really Know What It Is? (04:35)
02. Doobie Brothers - Listen To The Music (04:46)
03. The Rascals - Good Lovin' (02:30)
04. Rod Stewart - Tonight's The Night (03:57)
05. Jackson Browne - Running On Empty (05:03)
06. Phil Collins - In The Air Tonight (05:33)
07. The Zombies - Of The Season (03:32)
08. Ace - How Long (03:23)
09. Little Feat - Dixie Chicken (03:56)
10. Grateful Dead - Truckin' (05:05)
11. Stephen Stills - Love The One You're With (03:06)
12. Buffalo Springfield - For What It's Worth (02:36)
13. America - Sister Golden Hair (03:21)
14. The Pretenders - Back On The Chain Gang (03:53)
15. Forer - Feels Like The First (03:53)
16. Elton John - Daniel (03:55)
17. Moody Blues - Nights In White Satin (07:40)
Audio Fidelity is proud to introduce something new in the realm of compilation albums - for the first ever we have assembled the original masters of some of the rocks biggest stars and greatest hits and remastered these classics for Hybrid SACD.
Our collection is based on the original Life Legends series. With our first two titles, Crank It Up! and Get It On! we have taken each volume of recordings to another sonic level. You have never heard a hits collection of such consistently high standards.
It's like hearing these classic hits for the first . Most hits albums are pieced together from popular songs and assembled from the hit records. Audio Fidelity has spent months gathering the 34 best available individual masters of the all- rock standards included on each Hybrid SACD. All the original masters from these great artists and all these great hits remastered for the first for Hybrid SACD.
Rock heavyweights make this collection an essential for any classic rock lover. Enjoy the best of the era with hand-picked hits on this stellar compilation. SACD
CD-Rip
DOWNLOAD
nitroflare
Código:
http://nitroflare.com/view/4AA6D37C65B26BB/urhLWdFn_VALegendsCr.rar
http://nitroflare.com/view/A36CCD6C95E04CE/urhLWdFn_VALegendsCr_.part1.rar
http://nitroflare.com/view/2BB7006F9E939BC/urhLWdFn_VALegendsCr_.part2.rar
http://nitroflare.com/view/EC41B8D38AF52F9/urhLWdFn_VALegendsCr_.part3.rar